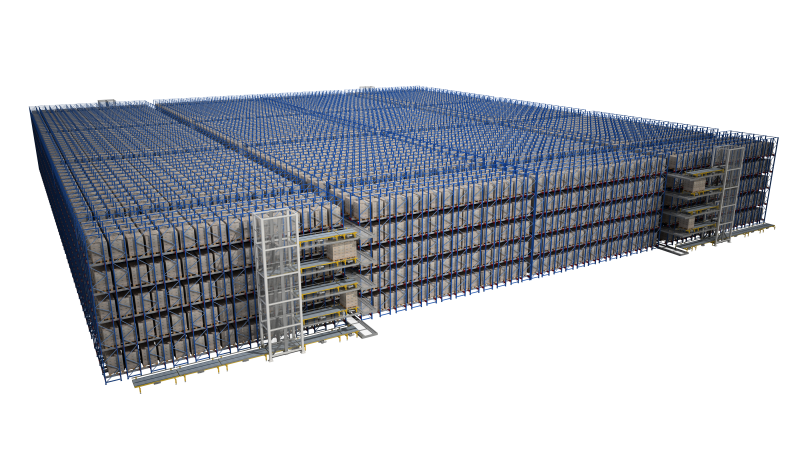 Stoccaggio in multi-profondità e movimentazione indipendente ad ogni livello
The SMARTSTORE high-density automated warehouse provides multi-depth pallet storage with independent movement at each level. It can be implemented in brownfield and greenfield projects. The combined use of shuttles and satellites offers, in safety, high performance and top-notch reliability. The system is provided with battery-powered shuttles on all levels that carry a satellite, that is also battery-powered, and recharge it at the same time. The satellite collects and transports the pallets to the storage channels while the shuttle transfers the pallets to the inlet and outlet headers of the warehouse. By using elevators connecting the various levels, the pallets are transferred to and from the inlet and outlet bays of the warehouse.
---
Vantaggi:
---
Optimization
---
Maximum storage density for large production and distribution volumes.
High operational cadences.
Reliability.
Accessibility.
System modularity.
Integration
---
The SM.I.LE80 software platform governs the storage systems, input/output peripheral units and LGVs/AGVs.
Flexibility
---
Studied and customized according to the operating parameters of the factory and using discrete-event simulation software, customers can compare different scenarios of the same system to verify all functions and select the best-operating logics for absolutely reliable results.
Energy efficiency
---
Low maintenance costs and energy savings by exploiting the regenerative features on the lithium-ion batteries powering the satellites and the shuttles.
Automatically and daily monitoring of all the batteries installed daily by the Flash Data Center software developed by Kaitek Flash Battery.
Safety
---
Provided with safety systems for independent access to the various levels.
Can be equipped with fire protection, lighting and air conditioning systems.
400
Oltre 400 soluzioni integrate
2700
Oltre 2700 sistemi robotizzati
7000
Oltre 7000 AGV e LGV
50
Magazzini automatici ad alta intensità dal 2016